In and among the masses of transfer rumours, U20 celebrations, U21 "here we go again's" and FIFA crimes, one story in British football has, unfortunately, gone relatively unnoticed – that of Rachel Riley's Sky Sports departure.
Many people may not have realised that Riley hosted some Sky Sports' programmes, perhaps only knowing her as the math's wiz on Countdown, or the butt of many Jimmy Carr quips on the 8 of 10 Cats version of the famous show. Nevertheless, she was, alongside Paul Merson and Max Rushden, a presenter of Sky Sports' Fantasy Football Club and with Jeff Stelling the host of Friday Night Football. That was until the football world remembered she was female and hung her out to dry.
Towards the end of the last Premier League season, Riley was presenting the live Friday Night coverage of a West Ham vs. Tottenham match in which the latter had to win in order to keep their title hopes alive. They didn't, losing one-nil to their London rivals – a team who hadn't beaten anyone in the top six that season. During the analysis, Riley remarked that Tottenham had 'done a proper bottle job' that night. Bad grammar aside, this is a comment made nearly every year of a team and was ultimately true. The only difference being this time the words had been uttered by a female pundit, not a male one. Tottenham's players had indeed 'bottled it' against West Ham, and blown their best chance for a Premier League title.
The response to Riley was horrific. The sexist abuse she received on Twitter from Spurs' fans was disgusting. From comments on her appearance, statements that 'girls don't belong in football' and even death threats, Riley was understandably disturbed by events. The barrage of abuse immediately demonstrated the ever-present sexism that remains in the mentality of many football fans and once again highlighted the challenges facing many high-profile individuals on social media.
More disgraceful, however, was Sky Sports' response to the situation. Riley was "excluded from hosting the programme the following week" and then earlier this month, in light of the ongoing resistance to her involvement in football – Riley's Fantasy Football Club contract was also terminated. The ultimate irony of this was that the so-called 'mutual decision' was made the week before Women's Sport Week from Women in Sport - the not-for-profit with the mission of "transforming sport for every woman & girl in the UK".
At a time when Sky Sports should have stood by her, re-invested in women in sport, shown what they really stand for and more than anything protected their employee – they allowed her to leave. Handing the victory to the bigots. The only Sky Sports support came from Gary Neville, who tweeted:
"A Scandalous response to a nothing comment. Not helped by other presenters in the TV world sticking the knife in!!"
Football still has a real communications problem. The big question however, is whether it is just that, or whether the inane, institutional chauvinism still drives the business of sport itself. Perhaps journalist Martyn Ziegler said it best when he commented: "now an intelligent, sparky female presenter is lost to football."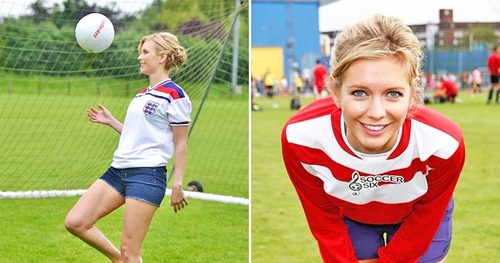 unknown

x

500